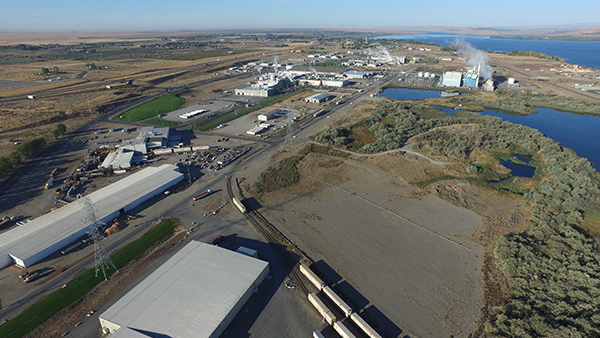 The Boardman Industrial Park has more than 2,500 acres of industrially zoned land ready for occupancy.
Food processors find a welcome home in the Food Processing Park alongside some of the world's best-known names in the industry: Lamb Weston's French fry plant, Oregon Potato Company's potato flake plant and Boardman Foods' onion processing plant. Tens of thousands of tons of potato and onion storage facilities are already in place. And, Port of Morrow Warehousing, a public cold storage facility, is ideally located near all major transportation modes.
Boardman Industrial Park sites are particularly suited to transportation-dependent industries. Fiber and seed processing cluster the transportation facilities. Barenbrug USA cleans and ships grass seed all over the globe. Dodge Logging's chip reload facility and Tidewater Terminal's public container and chip reload find excellent Columbia River dock sites in the Port.