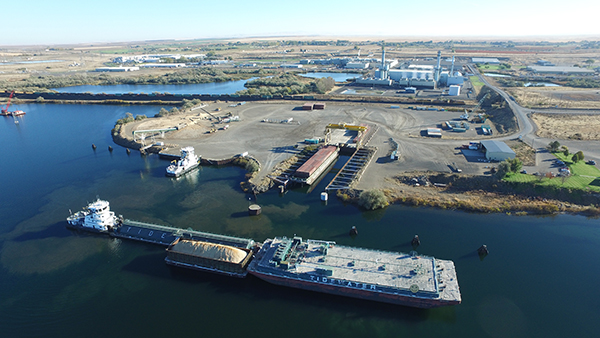 The Port of Morrow has been awarded a $19,414,875 grant from the U.S. Department of Transportation's Better Utilizing Investments to Leverage Development program, also known as BUILD grants. The announcement was released through U.S. Congressman Greg Walden's office on December 6, 2018.
The grant will fund infrastructure improvements at marine terminals within the Port. The project extends new rail lines from the Union Pacific mainline to four terminals which will enable rail-to-barge access for shipments along the Columbia River. The project includes infrastructure improvements to facilitate seamless intermodal operations, including new bridges, connecting roads, and Terminal 1 improvements.
In addition, the project maximizes a recent expansion of the grain terminal funded by public and private investments from Morrow County Grain Growers, the State of Oregon, Shaver, and Tidewater. The expansion added 1 million bushels of new grain storage and a new bottom-dump rail unloading facility.
The Columbia River Barge Terminal Rail Access Project is projected to increase economic activity and add permanent local jobs, generating 30 years' worth of economic activity in a rural region. New capabilities to ship and receive cargo via rail and barge supports the local agricultural economy and opens the doors to attract new industry investment.
BUILD Grant Summary (PDF)
Terminals 1-3 Rail Service Map - Updated (PDF)
East Beach Rail Map (PDF)